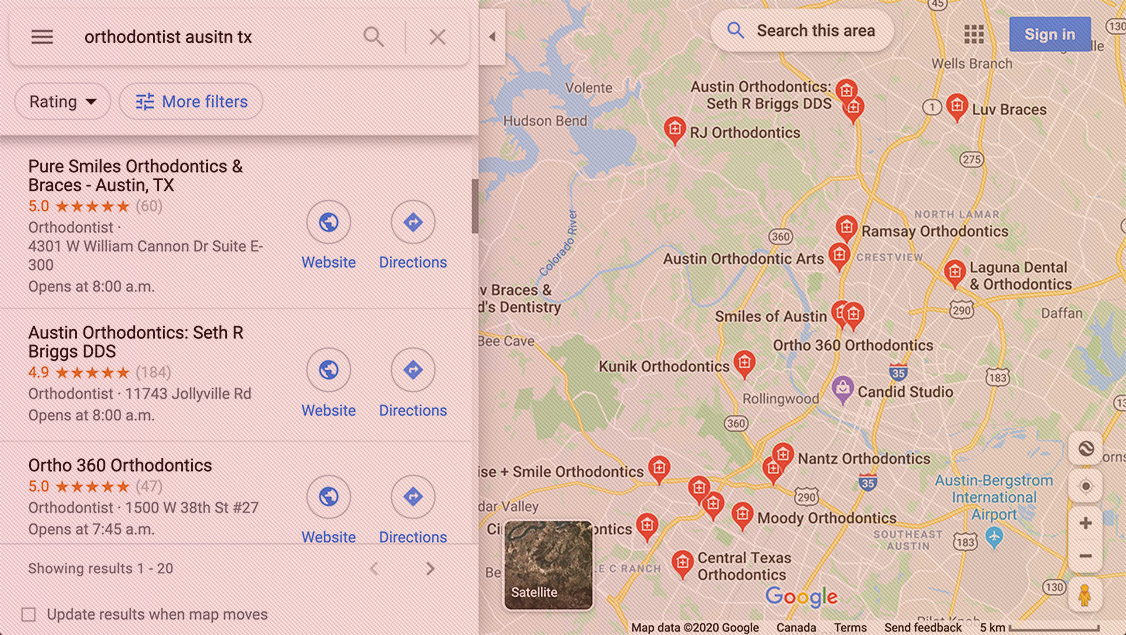 Do Online Reviews Boost Local SEO?
When it comes to your website's search engine optimization, there is so much to think about. From creating a user-friendly site, to crafting relevant and engaging content, to link-building and so much more. But if you are a local business, such as a dentist, orthodontist, or lawyer, building a healthy review profile is just as important.
Reviews from Google My Business not only affect consumer purchasing decisions, but your rankings, as well. The more people who are talking about your business, the higher your ranking will be.
Did you know that reviews that contain keywords are the second biggest SEO factor in determining where your business shows up in what is known as the "local pack?" The local pack refers o the box of search results that shows up underneath the map. It shows local businesses that match the search term and are near the user. It is the very first thing that pops up in a local search.
Your business is most likely to show up in the local pack when you have reviews that use your keywords as well as the city where you are located.
But why do reviews matter? Quite simply, if you have a high number of good reviews, it tells Google that your business is trustworthy and can be placed at the top of their search results. Google wants its users to find the content that is relevant to them, and reviews can help them do that.
You can think of reviews in the same way as having a healthy link profile. We know that Google likes to see links to your site from other site's because this shows a level of trust. Reviews work in the same way. Reviews show Google that your business is a legitimate one, which whom people have interacted, and it is deserving of visibility.
Not only that, reviews, much like the content on your website, help Google better understand your business. We carefully craft our website content so that Google will have the right information to help better rank our sites. Your user reviews provide even more information about your business to Google, helping Google better understand.
But you don't want just any review, you want good reviews. Improving your ranking is influenced by click through rates, and having a higher number of positive reviews show internet searchers your are trustworthy, and therefore can lead to more clicks. Google will then reward you with better ranking positions.
If you are not including reviews in your SEO profile, you may be missing out on valuable traffic. Review Tool makes capturing positive reviews on the most important sites, like Google, as easy as possible. Sign up for a free trial to get started.