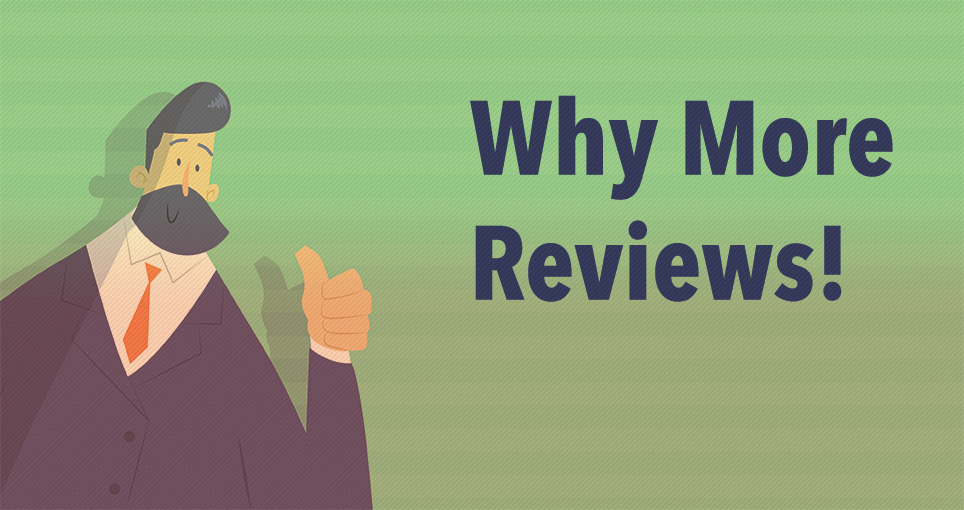 20 Reasons Having More Reviews Can Help Your Business
The internet plays an important role in helping put your business in front of potential customers. And having a positive online reputation is now more a necessity than ever before. How can having more reviews help your business?
92% of consumers read online reviews before determining whether to use the business or not.
80% of those people consider reviews as important as personal recommendations.
Reviews can improve your click through rate. Even if your listing isn't as high as nother, if your review has more better ratings, it can draw more attention to your business.
Reviews can improve your SEO and be sure you are being found by potential customers.
Positive reviews show your customers that you are reliable.
Reviews can build trust.
Reviews provide feedback that can be invaluable to your business. For example, a negative review might highlight something about your customer's experience that you can correct immediately, making more enjoyable experiences for future customers.
Reviews allow you to connect with customers. You can read exactly what customers think of your business, and can thank them for their business, or work with them to remedy a situation that may have been unpleasant.
Reviews can increase sales. Yelp research shows that every star increase results in a 5 to 9 percent increase in revenue.
Consumers who read positive reviews spend 31% more because of the reviews.
Nearly 60% of consumers look at multiple review sites before making a decision about a business.
Nearly 75% of customers think a review older than three months are no longer relevant.
Reviews can help increase your brand awareness.
Reviews have high marketing value – who better to sell your business than happy customers?
Reviews allow you to reach new audiences.
The more reviews you have, the more reliable consumers will think they are.
Even negative reviews can work in your favor – one study found 9 out of 10 consumers felt more positively about businesses who take the time to address negative reviews.
Reviews from fellow consumers are more trusted (up to 12 times more trusted!) than descriptions from manufacturers.
Reviews can help you know what is working with a new product or initiative, and what might need to be tweaked.
72% of consumers say that positive reviews make them trust a local business more.
Short term goals lead to long term success.
There are many factors that go in to building your brand, increasing sales, and building trust with customers. Online reviews are one way to ensure you are in control of your reputation. With the internet always at our fingertips, and the desire to make a purchase is often what drive consumers to look for reviews. The best time for potential customers to be introduced to your business, and your positive reviews, is at precisely this time.
Your customers are more than likely talking about you online, whether you are monitoring it or not. And your competitors likewise are monitoring not only themselves, but you as well. Your reviews can help competitors strengthen their business, and if you are unresponsive or oblivious to reviews, it may even send customers straight to your competitors.